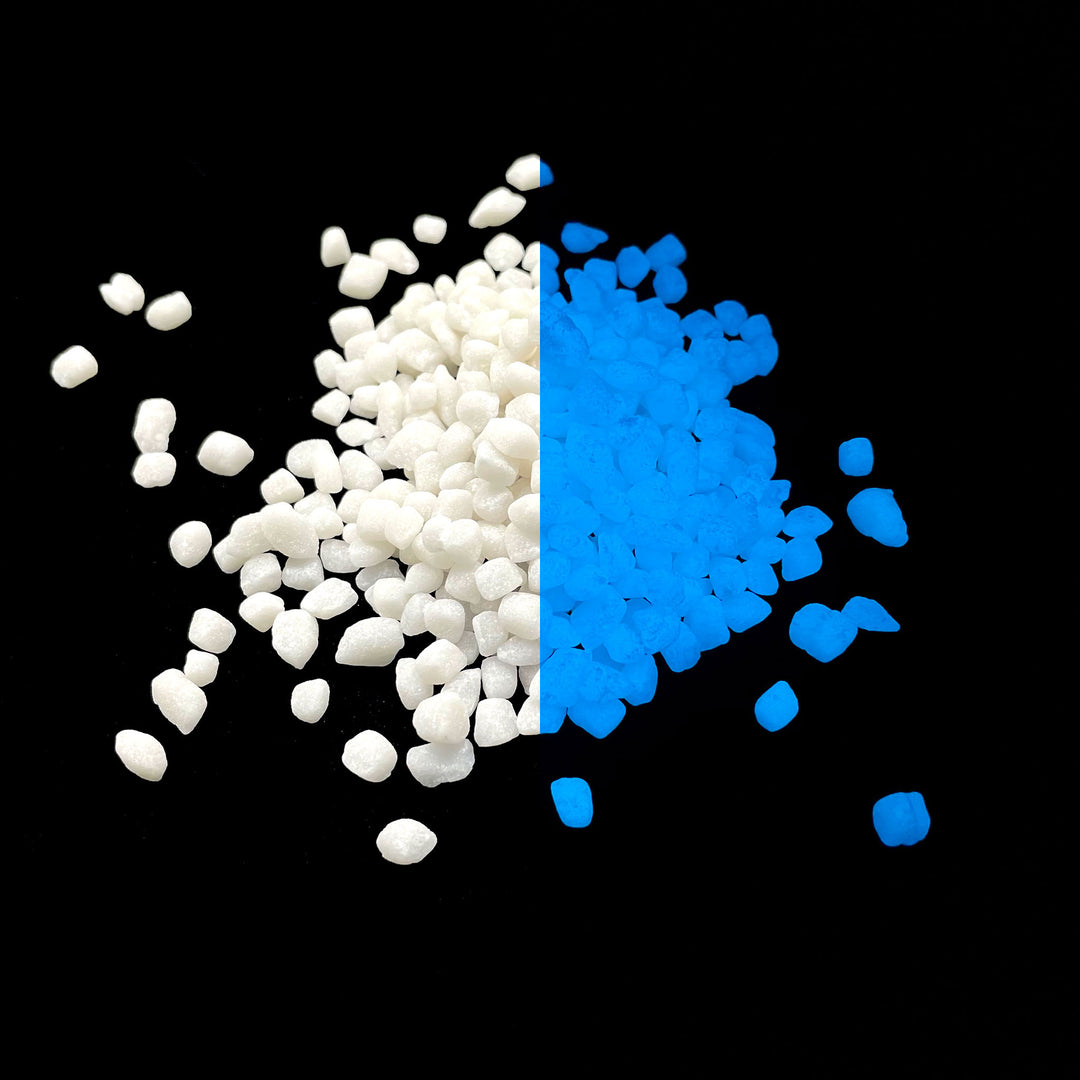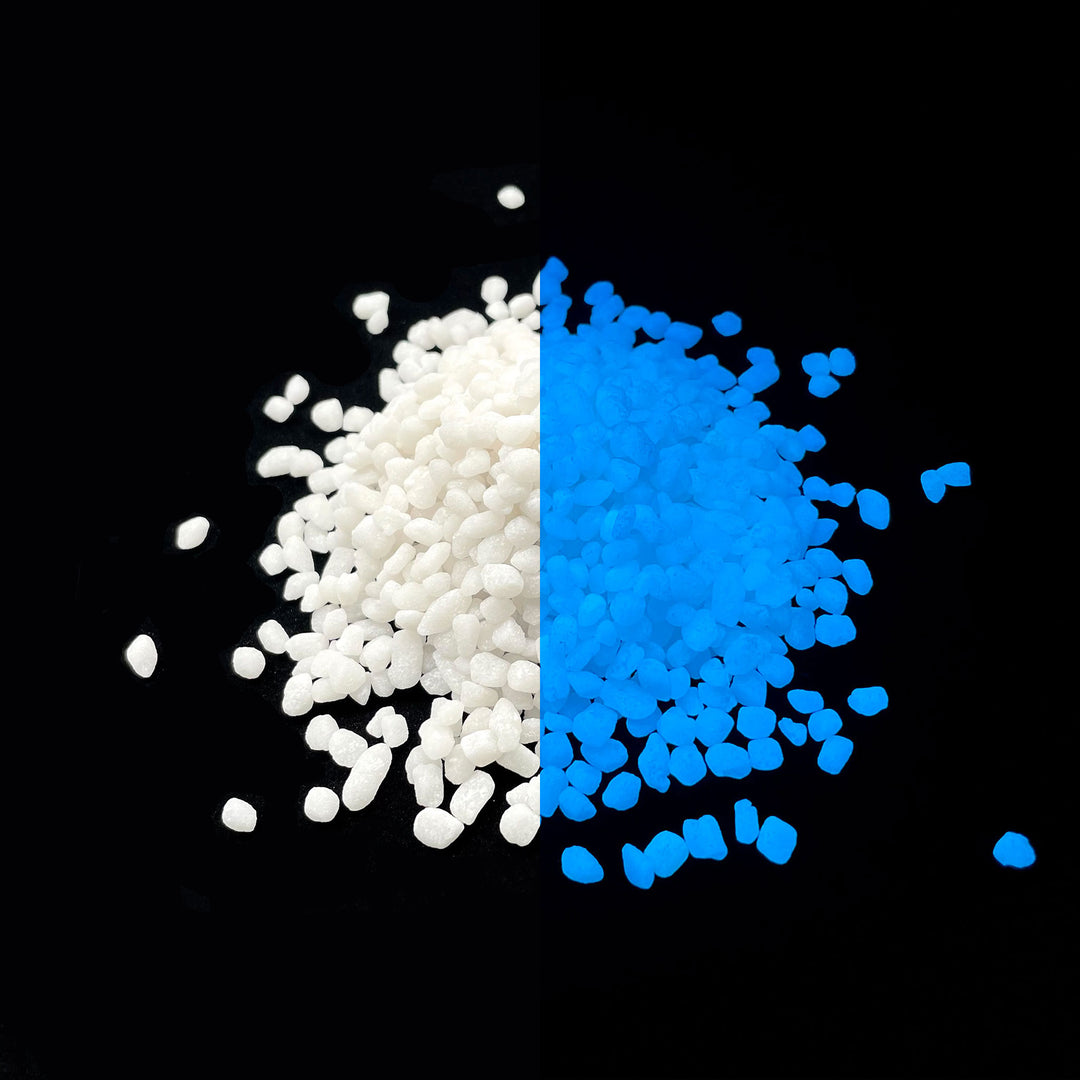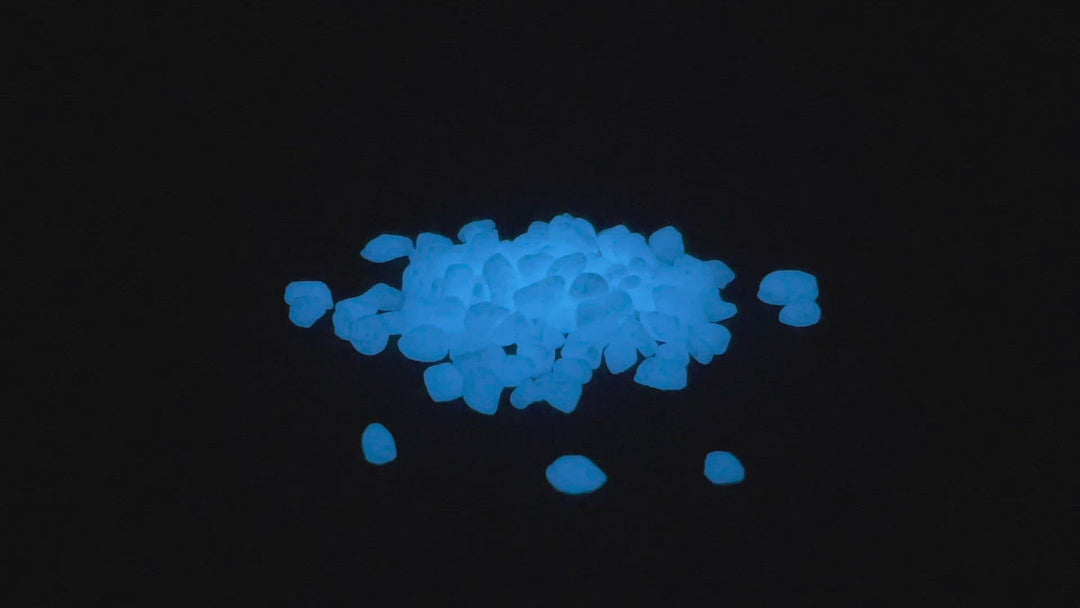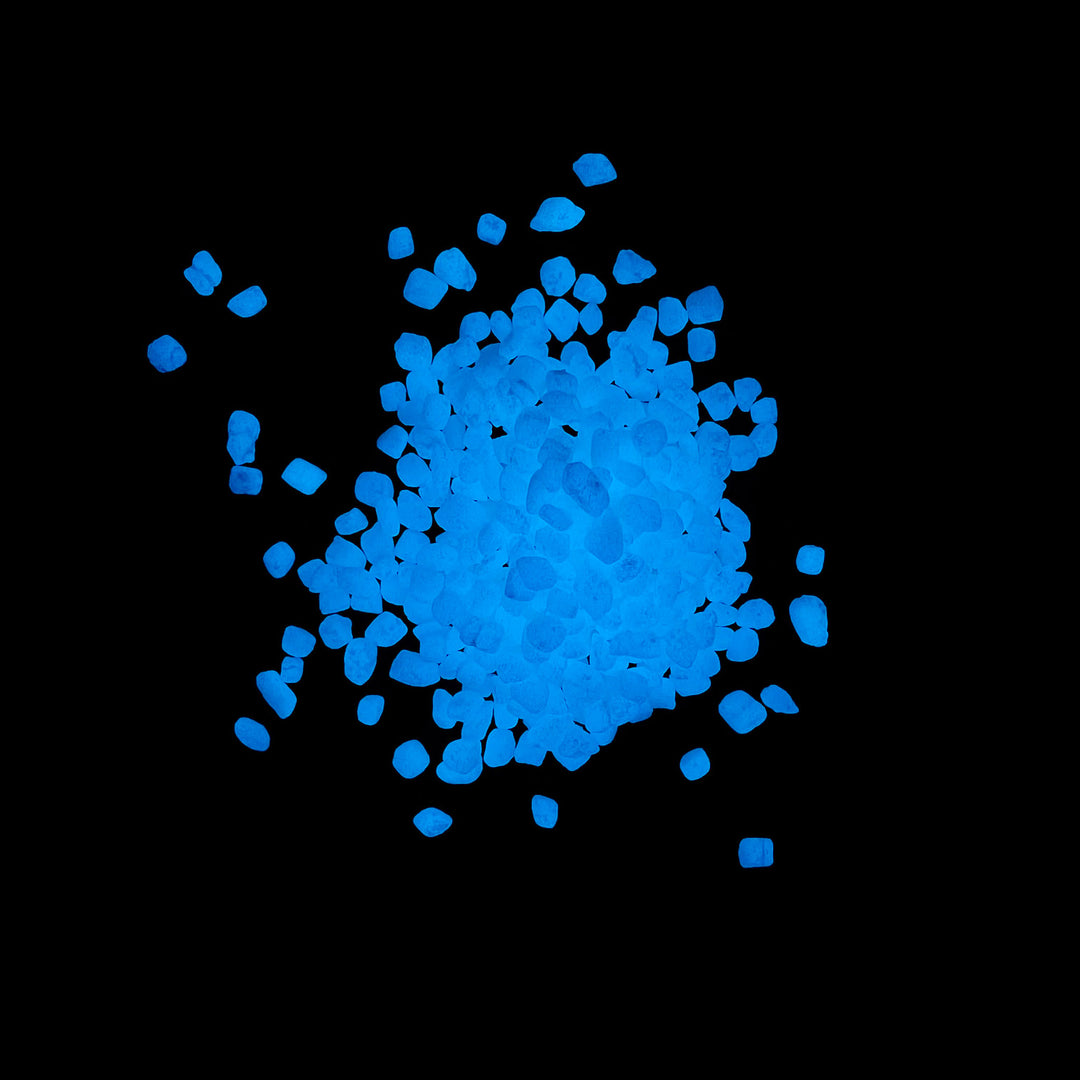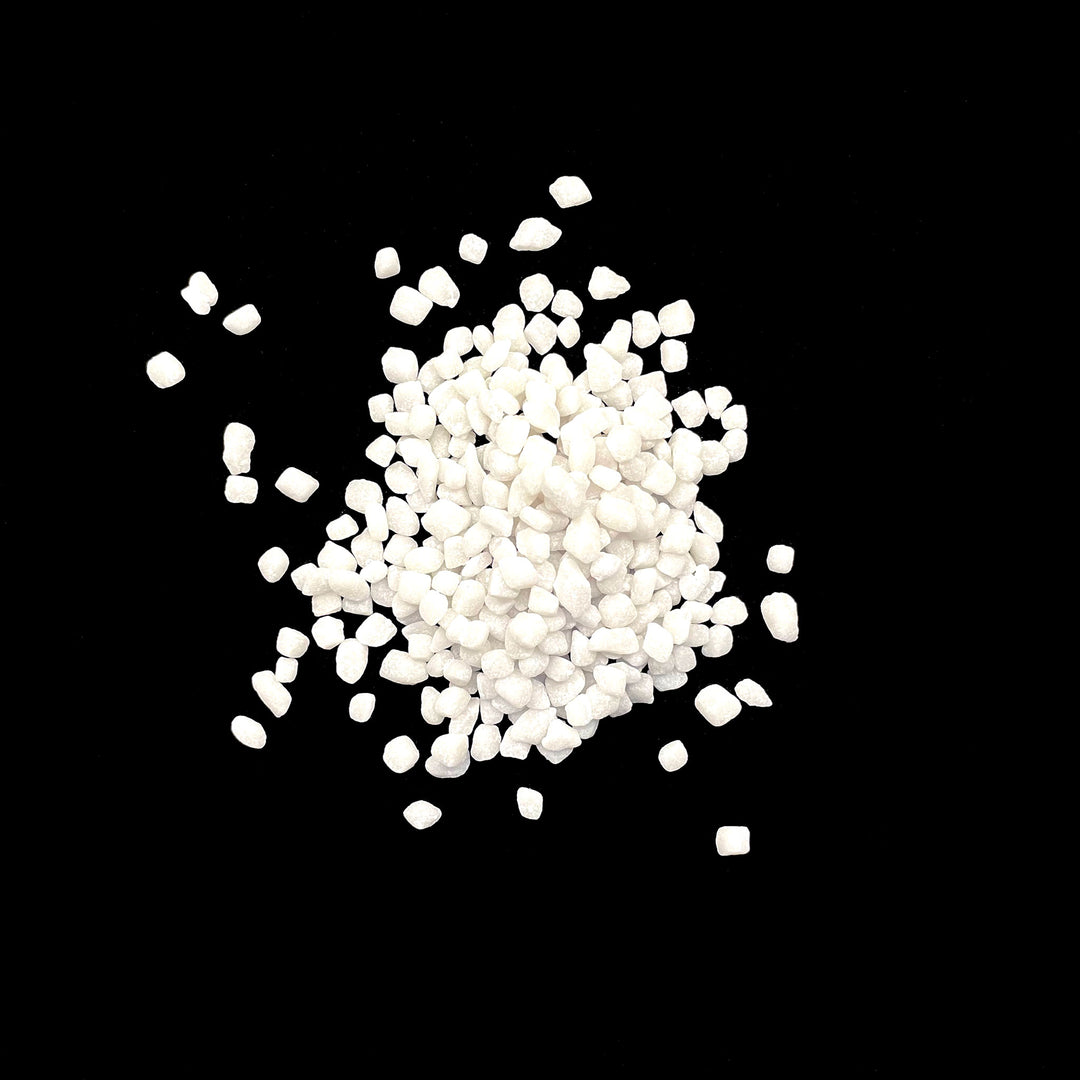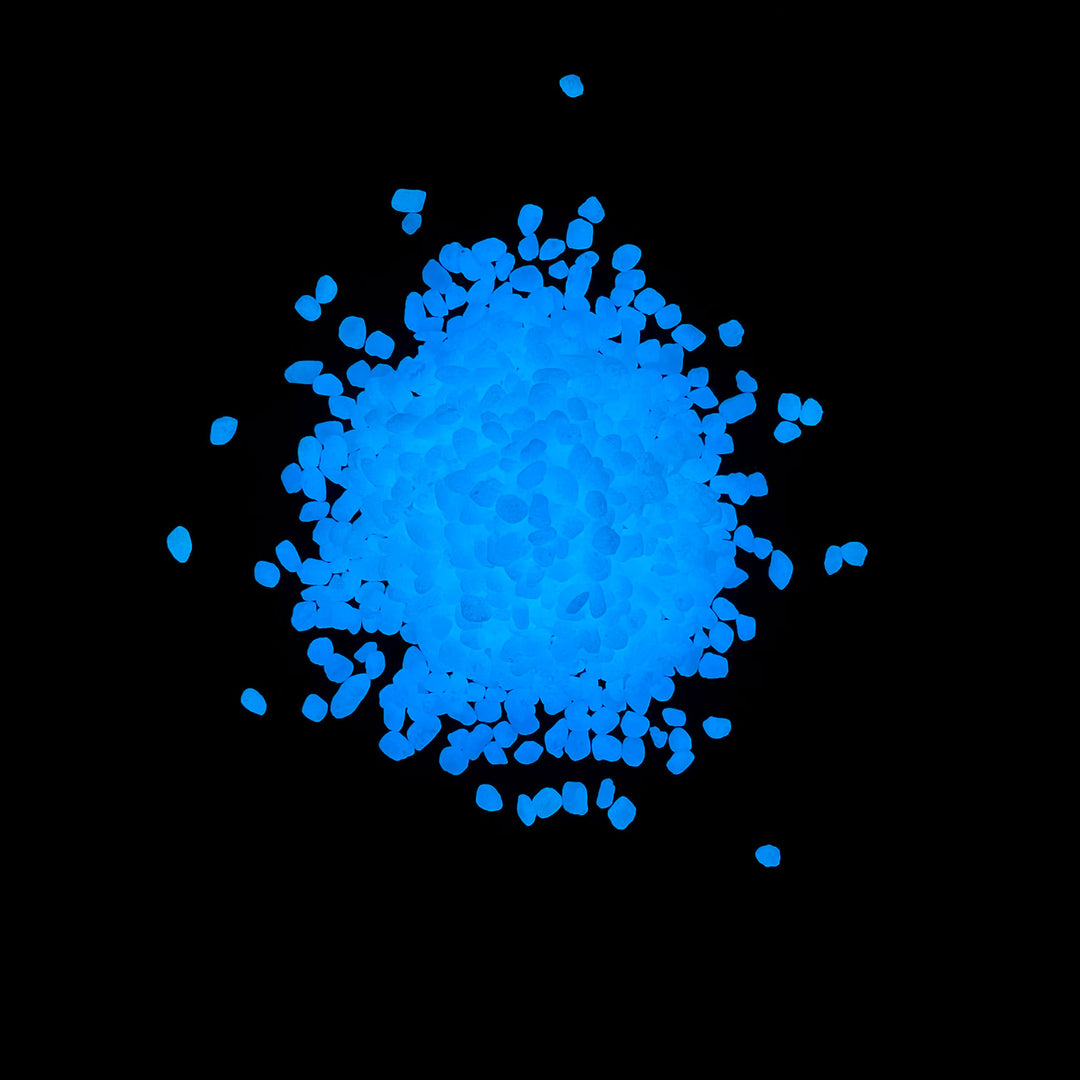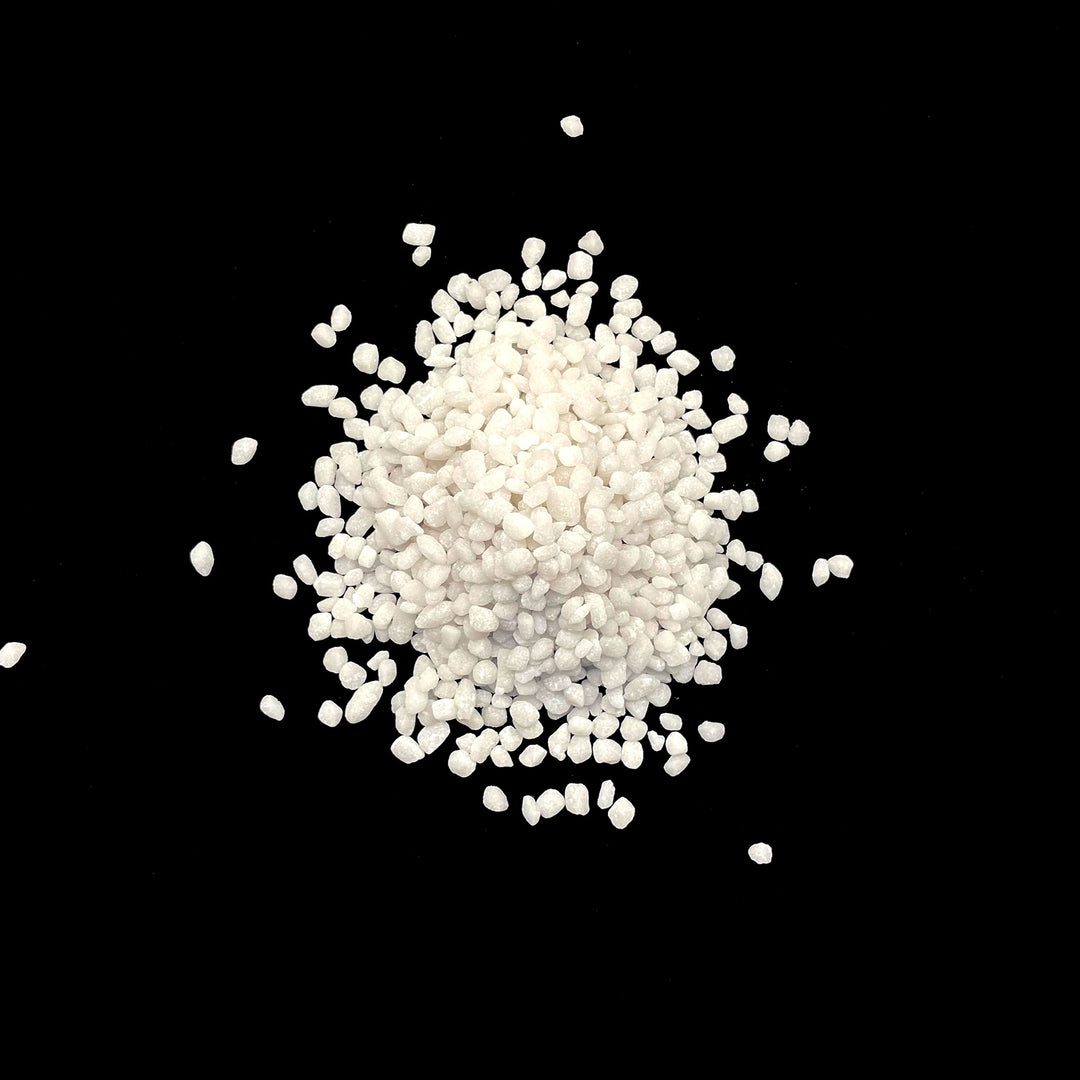 Glowing Mini Pebbles - Sky Blue - 1lb.
Find out how much product you should order with our Glow Stone Project Calculator.
Quantity Calculator
Eco-Friendly & Energy Efficient
In stock, ready to ship

Inventory on the way

AGT™ Sky Blue Mini Pebbles
DIN67510 Part 1 Compliant – AGT™ High Performance Commercial Grade Glow Stones outperform ANY/ALL TYPES of Glow in the Dark Gravel, Resin Glow Marble or Glass Glow Chip products commonly found on the internet by a minimum of 30%.
| | |
| --- | --- |
| Weight: | 1 lbs |
| Initial Brilliance: | HIGH - 1849 mcd/m2 @ 1min.  |
| Charging Time: | 8 minutes of daylight |
| Glow Duration: | 15hrs.+ |
| Sizing: | 1/8" (2-4mm) and 1/4″ ( 5-8mm) |
| Daytime Color: | Off-White |
| Texture: | Coarse surface texture with rounded pea gravel shape |
1/8" AGT™ Mini Glow Pebble:
This glow aggregate sizing was specially designed for pool batch use and homogeneously integrates into all types of pool finishes from DiamondBrite™, QuartzScapes™ and Marbletite™ quartz plaster finishes to PebbleTec™ and StoneScapes™ mini pebble finishes - only to name a few.
1/4" AGT™ Mini Glow Pebble:
This glow aggregate sizing was designed for hand-broadcasting onto horizontal surfaces such as pool floors, Baja Shelves and stairs as well as exposed aggregate concrete pool decks, patios and walkways. The shape and size of these glowing mini pebbles are very similar to that found in common pea gravel aggregate so exposed aggregate decorative concrete finishes turn out glowingly amazing!
Ambient Glow Technology - Limited Warranty
Subject to the terms and conditions herein, Ambient Glow Technology ("AGT™") warrants its glow stone products to be free from manufacturing defects and to glow under normal usage for a period of 20 years from the date of purchase and will perform as outlined in AGT™ Tech Data Documents #003 and #004. The warranty coverage is limited to the original purchaser and is not transferable. The terms of this limited warranty are subject to the exclusions, limitations and restrictions as set forth as follows:
Exclusions from Warranty Coverage
AGT™ will have no liability under this warranty for, and no implied warranty shall be deemed to cover, any damages or failures related to or caused by: damages caused by natural causes including but not limited to hurricane, flooding earthquake, high winds, lightening or other types of natural disaster, environmental conditions, damages caused by any act of human including applying blunt force, bomb or other force, or as a result of unforeseen circumstances , acts of negligence or product misuse or abuse, structure or structural failure, inadequate substrate or substrate related failures including cracking or excessive deflection, normal wear and tear, improper coatings, any chemical interactions, coverage or coatings which block or impede light transmission and reception, failure to comply with our technical data sheets and other written instructions, applicable building codes and regulations and standard industry practice.
Special Guarantee – AGT™ Ultra Grade Glow Stone
AGT™ guarantees that Ultra Glow Stone is the brightest photoluminescent stone available. Further that AGT™ ULTRA Glow Stone will continue to glow for over 15 hours after being fully charged for a minimum of 8 minutes in sunlight. Refer to the exclusions and limitations in this warranty as well as the Warranty Claims Procedure.
Warranty Claims Procedure
Refer to our warranty Claims Procedure instructions on our website www.ambientglowtechnology.com or email us at support@ambientglowtechnology.com.
Limitations
Except for the express written warranty contained herein, AGT™ makes no other warranties, guarantees or indemnities, whether express or implied, arising by law, course of dealing, usage of trade, customer or otherwise, including but not limited to the implied warranty of merchantability and implied warranty of fitness for a particular purpose and all such other warranties, guarantees and indemnities are hereby disclaimed, overridden and excluded. This limitation may not be applicable in certain jurisdictions which do not allow limitations on the length of an implied warranty.
The Liabilities of AGT™ are limited solely and exclusively to the obligations specifically undertaken herein, and under no circumstances will AGT™ be liable or obligated for any incidental, consequential, indirect or special, punitive or any other damages of any kind whatsoever, whether foreseeable or unforeseeable, arising out of breach or failure of express or implied warranty, breach of contract, fraud, misrepresentation, negligence, strict liability in tort or otherwise, or any other cause of action, except and only to the extent that this Limitation is specifically precluded by applicable law of mandatory application. The Liability of AGT™ with respect to this warranty shall in no event exceed the replacement of such product or refund of the original purchase price at our sole discretion.
Some states/jurisdictions do not allow the exclusion or limitation of incidental or consequential damages, so the above limitation or exclusion may not apply to you. This warranty gives you specific legal rights and you may also have other rights that vary from state to state or other jurisdictions.
Our Glow Guarantee
Since 2005, AGT™ has been the glow aggregate market leader. We understand that in most cases, glow stones are being placed in permanent substrates such as concrete or asphalt and you need to know that they will glow - not 'hope' that they do...
DON'T TAKE CHANCES WITH YOUR GLOW...
Miscellaneous
This writing is understood and intended to be the final expression of the AGT™ Warranty and is a complete and exclusive statement of the terms and conditions with respect thereto, superseding all prior agreements or representations, oral or written, and all other communications relating to Product Warranty. This warranty may not be altered or amended except in a written instrument executed by AGT™. No agent, employee or any other party is authorized to make any warranty in addition to that made in this warranty and AGT ™ shall not be bound by any such statements other than those contained in this warranty.
The parties agree that any legal action arising from a dispute hereby irrevocably and unconditionally attorn to the exclusive jurisdiction of the courts of the Province of Ontario and all courts competent to hear appeals therefrom.
Trade/Common Name: AGT™ Ultra (X) Glow Stones - AGT™ Mini Glow Pebbles - Sizing: 1⁄8

"

(4mm)

,

1⁄4"

(8mm),

1⁄2"

(12mm)

CAS Number: N/A
Chemical Family Name: Aluminate
Synonym: Long persistence Doped Strontium Aluminate
Formula: Proprietary
Statement: AGT™ stone is made with proprietary photo-luminescent pigment and our proprietary polyester resin. This material data sheet (MSDS) has been prepared in compliance with the Federal OSHA Hazard Communication standard 29 CFR 1910.1200. This product is considered to be a non-hazardous substance under that standard.
SECTION ONE: CONTACT INFORMATION
| | |
| --- | --- |
| Responsible Party: Universal One Corporation | Emergency and Informational Tel# 011 905 250 9642 |
| Address: 12 – 1064 Salk Road, Pickering, ON, L1W 4B5 | Date Prepared: January 02, 2023 |
Density: 2.08g/cm3
BARCO Hardness: ≥55
Bend Strength: ≥100MPa
Impact Strength: ≥14.00 KJ/m2
Thermal Deformation Temperature: ≥185 degrees C
Elongation At Break: ≥4.2%
SECTION THREE -- REACTIVITY Stability:
Stable
Stability: Stable

Hazardous Polymerization: Will not occur.
Conditions to Avoid: Contact with acids.
Incompatibility: Contact with acids.
Hazardous Decomposition Products: Will not occur.
SECTION FOUR -- HEALTH HAZARD DATA
Respiratory Equipment:

Not Necessary.

Protective Gloves: Not Necessary.

Eye Protection:

Not Necessary.

Ventilation:

None.

Other Protective Equipment:

None.

Primary Routes of Exposure:

Skin.

Effects of Overexposure:

None.

Listed Carcinogen:

None.
SECTION FIVE -- EMERGENCY & FIRST AID DATA
Skin: Wash off with soap and water.

Eyes:

Flush with water for 5 minutes.

Inhalation:

Move to fresh air.

Ingestion: N/A

SECTION SIX – TOXICOLOGY INFORMATION
Inhalation: N/A

Skin Contact: N/A

Skin Absorption: N/A

Eye Contact:

May cause minor eye irritation (mechanical)

Ingestion:

N/A
SECTION SEVEN – HANDLING & STORAGE INFORMATION
Keep in a tightly closed container, stored in a cool, dry, ventilated area. Protect against physical damage.

Other Precautions:

maintain a schedule of regular housekeeping to insure cleanliness.
SECTION EIGHT -- ADDENDUM
NFPA Ratings: Health: 0 Flammability: 0 Reactivity: 0
Label Precautions:


Washing thoroughly after handling.

Use with adequate ventilation.

 
Disclaimer:
Universal One Corporation provides the information contained herein in good faith but makes no representation as to its comprehensiveness or accuracy. This document is intended only as a guide to the appropriate precautionary handling of the material by a properly trained person using this product. Individuals receiving this information must exercise their independent judgment in determining its appropriateness for a particular purpose. UNIVERSAL ONE CORPORATION MAKES NO REPRESENTATIONS OR WARRANTIES, EITHER EXPRESS OR IMPLIED, INCLUDING WITHOUT LIMITATION ANY WARRANTIES OF MERCHANTABILITY, FITNESS FOR A PARTICULAR PURPOSE WITH RESPECT TO THE INFORMATION SET FORTH HEREIN OR THE PRODUCT TO WHICH THE INFORMATION REFERS. ACCORDINGLY, UNIVERSAL ONE CORPORATION WILL NOT BE RESPONSIBLE FOR DAMAGES RESULTING FROM USE OF OR RELIANCE UPON THIS INFORMATION.
Have a Question for Our Glow Experts?